This article describes the settings of the Time Interframe and how you could reduce the KNX Telegram load with it.
APPLICABLE PRODUCTS
Intesis Modbus TCP & RTU Master to KNX IP: IN701KNX1000000, IN701KNX2500000, IN701KNX6000000, IN701KNX1K20000, IN701KNX3K00000,
To change the number of KNX telegrams that are sent from our Intesis Modbus Master to the KNX Gateway it is necessary to increase the value of the Time InterFrame setting.
This setting defines the time our Gateway will wait between sending 2 Modbus requests. If a response is received from the Modbus Slave/Server, we will forward it to KNX. Therefore, if this time increases, the amount of KNX Telegrams will decrease.
For Modbus RTU see the Settings below

For Modbus TCP see the Settings below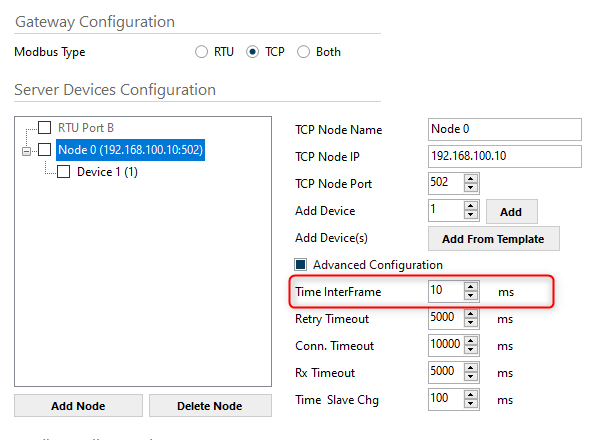 ADDITIONAL INFO
©
HMS Networks AB
2022 - Reviewed: Q1/2023