This article tells you where in your file system you need to copy your EtherCAT ESI device description files when using TwinCAT V3 as an engineering tool.


APPLICABLE PRODUCTS
All Anybus and Ixxat products with an EtherCAT slave interface.
QUESTION
Where do I need to copy EtherCAT ESI files when using TwinCAT as an engineering tool?
ANSWER
For a default TwinCAT V3 configuration, EtherCAT ESI files need to be copied to C:\TwinCAT\3.1\Config\Io\EtherCAT: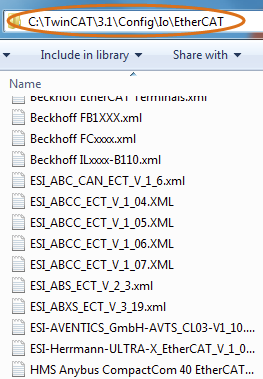 Make sure that you restart your TwinCAT instance after copying the ESI files to the above path.