An Ewon configuration set contains several configuration files :
config.txt : File containing all system parameters like Ewon name, Timezone, Tags list, IOServers,...
comcfg.txt : File containing all communication parameters : IP settings, APN, Wifi SSID,...
program.bas : File containing the basic script program.
This document explains the system parameters contained in the comcfg.txt file of the Ewon Cosy and Ewon Flexy.
For additional related documentation and file downloads, please visit www.ewon.biz/support.


APPLICABLE PRODUCTS
Ewon Cosy 131
Ewon Cosy+
Ewon Flexy
PRE-REQUISITES
You can access to this comcfg.txt file:
In the Ewon backup file (*.tar) :


The Ewon backup files (*.tar) can also be opened using the Ewon Backup analyzer tool. See below.


Directly from the Ewon Flexy Web Interface :




Using a FTP client

Here is an example using FileZilla FTP client :

Here is another one using Notepad++ and the NppFTP addon :




From the Tabular Edition in the Web Interface (Setup > System > Storage > Edit COM Cfg)






PARAMETERS DESCRIPTION
You can find a detailed description of the comcfg.txt parameters in this document.
ADDITIONAL INFO (FOR DISTRIBUTORS OR PARTNERS ONLY)
The Ewon backup analyzer tool allows the distributor or partners to open and analyze customer configurations. It also gives some explanation about the comcfg.txt parameters.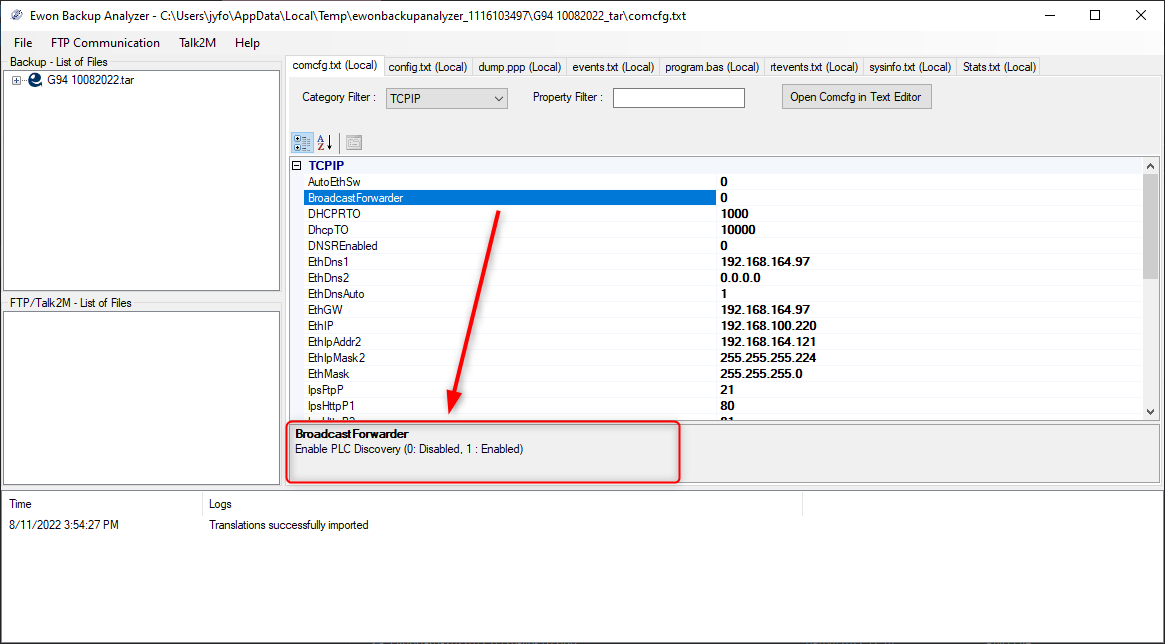 This tool can be downloaded from the Distributor area of the techforum.