This article describes how to get a backup of your Ewon from the device's web interface.
APPLICABLE PRODUCTS
Cosy 131
Cosy+
All Flexy models
QUESTION
How do I get a backup of my Ewon from the web interface?
ANSWER
The Ewon's web interface (where the device is configured via a web browser) is the easiest place to generate a backup of the device. This backup also includes "support files" which may be requested by HMS Technical Services when troubleshooting a problem. There are two slightly different instructions depending on whether you are using a Cosy or Flexy model.
Accessing the Web Interface
To reach the web interface, connect to the Ewon's LAN Ethernet port then open your web browser and type in the Ewon's LAN IP address (Default: 10.0.0.53) and press the enter key on your keyboard. If you are using the eBuddy software, you can click Open Browser and it will perform this action for you. You may have to check your computer's network adapter settings if it's not in the correct subnet. Once the page loads, you will have to log in using the Ewon's local credentials (Default Username: adm, Default Password: adm).
Cosy
In the left side menu, click Support Files.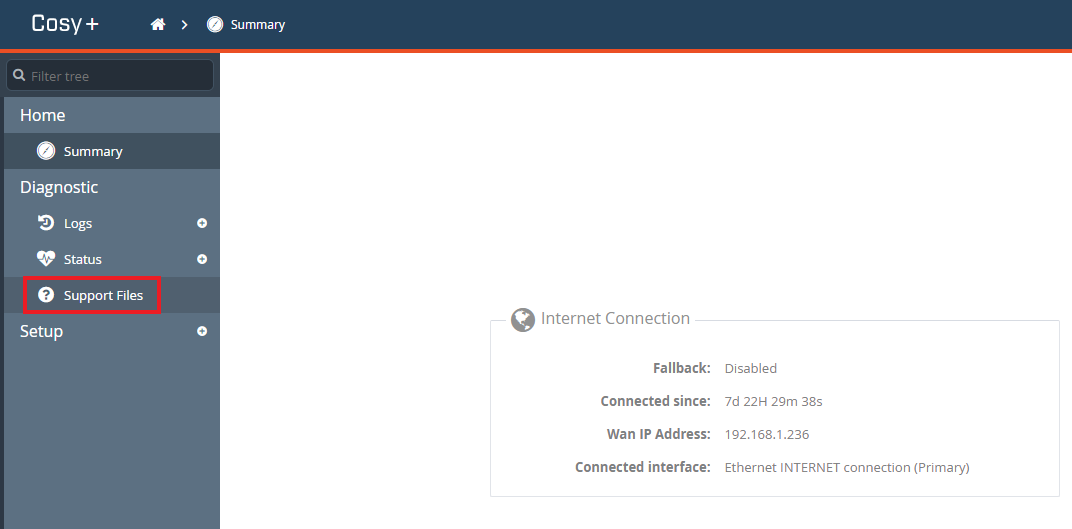 Flexy
In the left side menu, click Files Transfer. Then, in the top right corner of the screen, click Support Files.

ADDITIONAL INFO