This article contains steps to fix the error message "Unable to connect Ewon. All concurrent connections are already in use" that sometimes appear on eCatcher when trying to connect to an Ewon.

APPLICABLE PRODUCTS
eCatcher
Talk2M Free
Talk2M PRO
All Ewon Cosy and Flexy devices
PRE-REQUISITES
To move forward reading this article, please make sure to:
Login to your Talk2M account through eCatcher
Certify your Ewon is currently connected
IN THIS ARTICLE
This error message usually indicates that multiple users are connected or attempting to connect to the same Talk2M account exceeding the limit of allowed concurrent connections. Sometimes this occurs when a user closes eCatcher without disconnecting from the device completely, so our Talk2M servers will not receive the disconnect message and the connection will show active for a few minutes until the servers check the Ewon status. This process can take approximately 5 minutes. Trying to connect to your Ewon while this process takes places might also prompt this message "Unable to connect Ewon. All concurrent connections are already in use".
To solve this error message to be able to connect to your Ewon using eCatcher, please follow the steps below:
CHECK THE NUMBER OF CURRENT CONNECTIONS IN THE TALK2M ACCOUNT
When the account has already reached the maximum number of connected users, then one of the connected users has to disconnect from the device and logout from eCatcher so another user can connect to the device.
Please note that Free Talk2M accounts allow for 1 connected user at a time, and Talk2M PRO allows for 5 connected users at a time.
To check how many users are currently connected navigate through eCatcher -> Account -> Credit & Contract -> Concurrent Connects.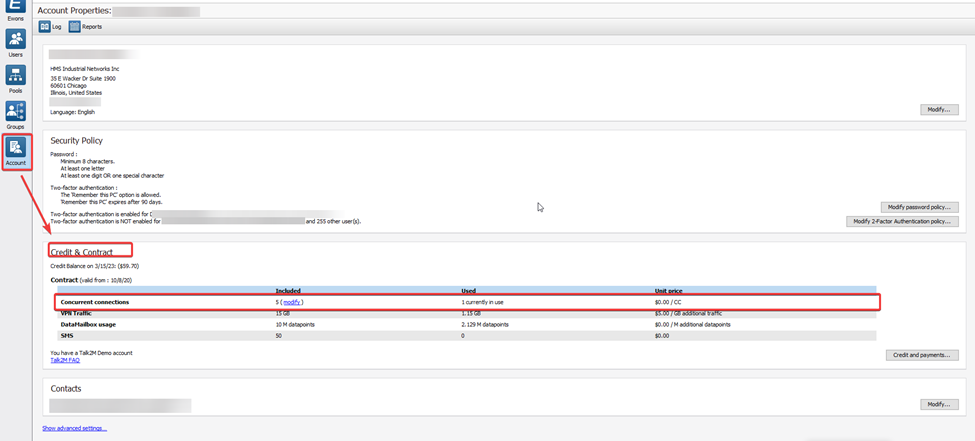 FORCE DISCONNECT A USER
Any of the administrators of the account can force any other user to disconnect from a device through eCatcher by clicking on disconnect under "Active connection" on eCatcher as shown below: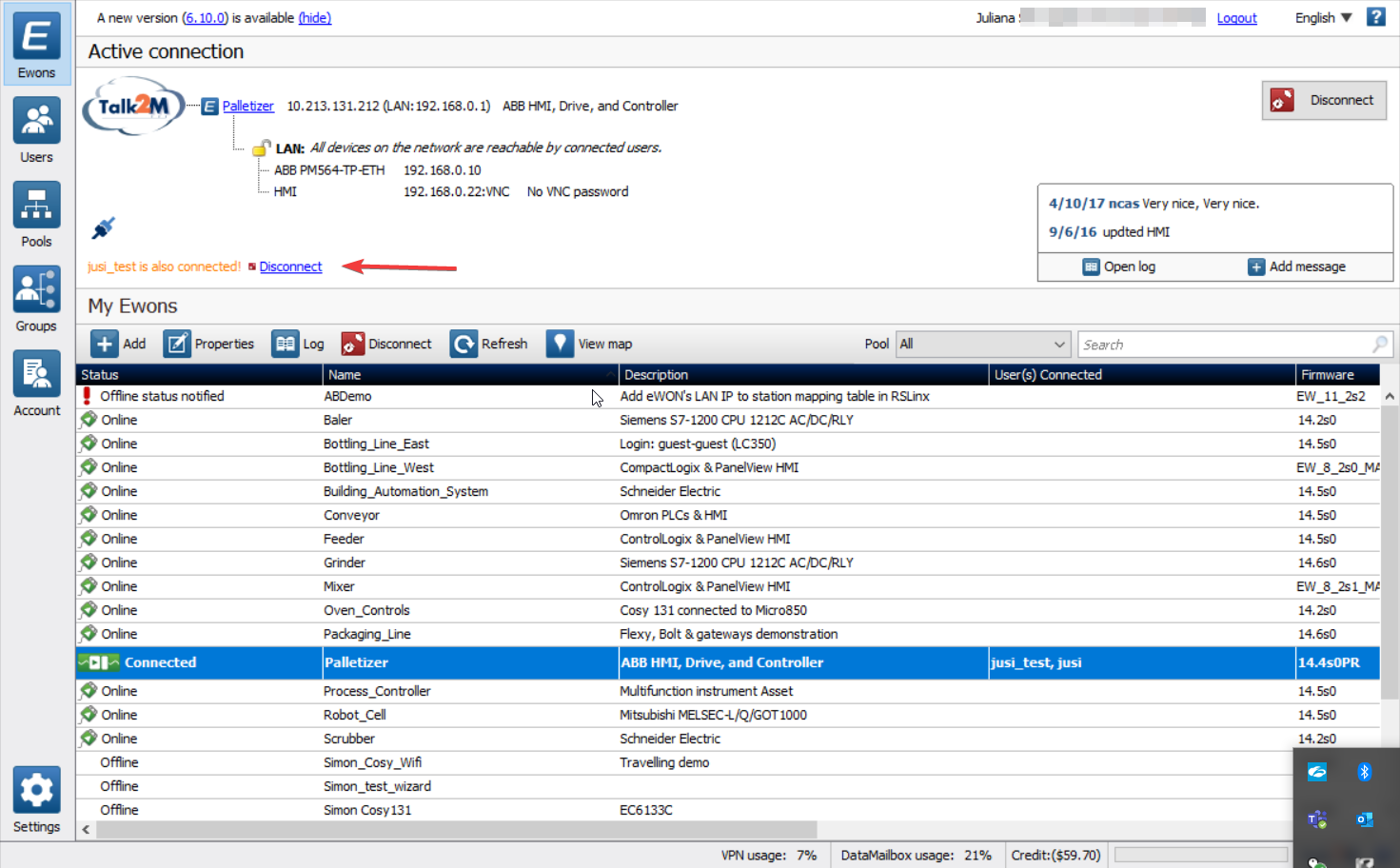 RESERVE A CONNECTION
For administrators, there is an option to reserve a number of connections for a specific group, and that allows administrators to safeguard a specific number of connections without the risk of receiving the concurrent connections error message.
To reserve connections navigate through eCatcher -> Account -> Reserved concurrent connections -> Modify -> Select number of connections to reserve and which group.